What is Rotary?
Rotary International is an organization of business and professional leaders united worldwide who provide humanitarian service, encourage high ethical standards in all vocations, and help build goodwill and peace in the world. In more than 160 countries worldwide, over 1.2 million Rotarians belong to more than 33,000 Rotary clubs. In many countries, membership in Rotary is a must for company top officers and political leaders.
Rotary club membership represents a cross-section of the community, from working professional men and women to retirees that want to give back. Rotary clubs meet weekly and are nonpolitical, nonreligious, and open to all cultures, races, and creeds.
The main objective of Rotary is service — in the community, in the workplace, and throughout the world. Rotarians develop community service projects that address many of today's most critical issues, such as children at risk, poverty and hunger, the environment, literacy, and violence. They also support programs for youth, educational opportunities and international exchanges for students, teachers, and other professionals, and vocational and career development. The Rotary motto is "Service Above Self."
Although Rotary clubs develop autonomous service programs, all Rotarians worldwide are united in a campaign for the global eradication of polio. Since the 1980s, Rotarians raised over $1.2 billion dollars to immunize the children of the world. In addition, Rotary has provided an army of volunteers to promote and assist at national immunization days in polio-endemic countries around the world.
Rotary Clubs follow Four Avenues of Service in which there is ample scope for anyone wanting to serve their community and make new friends.
Community Service includes those activities in which Rotarians make substantial and lasting improvements in the quality of life of their community. Examples of work being done under this banner by Moraga Rotary includes collecting food for the needy, E-Waste collections in the community, and volunteering labor to the Town of Moraga projects.
International Service is a dynamic opportunity for members to become involved with world community service, friendship exchanges and global scholarships, all of which are aimed at promoting international understanding, goodwill and peace. Wheelchair donation trips to Mexico and China are recent examples.
New Generations Service recognizes the positive change implemented by youth and young adults through leadership development activities such as Camp Royal, Camp Venture, Rotaract and Interact Club service projects, and creating international understanding through Rotary Youth Exchange.
Club Services encompass those activities necessary for the successful running of a club, and include serving on committees, proposing individuals for membership, membership growth and retention activities, fellowship, club administration and public relations.
Find out more about Rotary by visiting Rotary International.
The Rotary Foundation
The Rotary Foundation of Rotary International is a not-for-profit corporation that promotes world understanding through international humanitarian service programs and educational and cultural exchanges. It is supported solely by voluntary contributions from Rotarians and others who share its vision of a better world. Since 1947, the Foundation has awarded more than $1.1 billion in humanitarian and educational grants, which are initiated and administered by local Rotary clubs and districts.
The Foundation was created in 1917 by Rotary International's sixth president, Arch C. Klumph, as an endowment fund for Rotary "to do good in the world." It has grown from an initial contribution of $26.50 to more than $73 million contributed in 2000-01. Its event-filled history is a story of Rotarians learning the value of service to humanity.
| | | |
| --- | --- | --- |
| | | |
| A child receives a polio vaccination through the Rotary Foundation Polio Plus project. | | A Rotary Foundation Matching Grant brought clean drinking water to this small village. |
The Foundation's Humanitarian Programs fund international Rotary club and district projects to improve the quality of life, providing health care, clean water, food, education, and other essential needs primarily in the developing world. One of the major Humanitarian Programs is PolioPlus, which seeks to eradicate the polio virus worldwide. Through its Educational Programs, the Foundation provides funding for some 1,200 students to study abroad each year. Grants are also awarded to university teachers to teach in developing countries and for exchanges of business and professional people. Former participants in the Foundation's programs have the opportunity to continue their affiliation with Rotary as Foundation Alumni.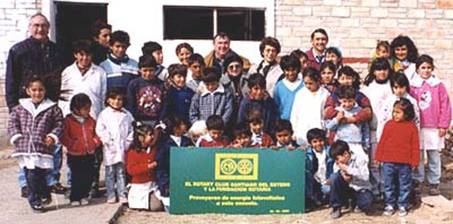 A Matching Grant from the Rotary Foundation provided solar energy for three rural schools near Santiago del Estero, Argentina.
You can find out more by visiting Rotary International.